Latest rental price and property growth trends reveal market is performing well for both landlords and tenants
---
Darlows comments:
Average rents across the UK rose by 1.8% in June 2018 when compared to the same month a year previously; the average monthly rent is now £924

Rents in London increased by 4.7% in June 2018 than in the same month of 2017; the average rent in the capital now stands at £1596 a month

When London is excluded, the average UK rental value was £767 in June 2018, this is up 1.3% on last year

HomeLet's May Rental Index reveals that rents rose in 10 out of the 12 regions covered in the research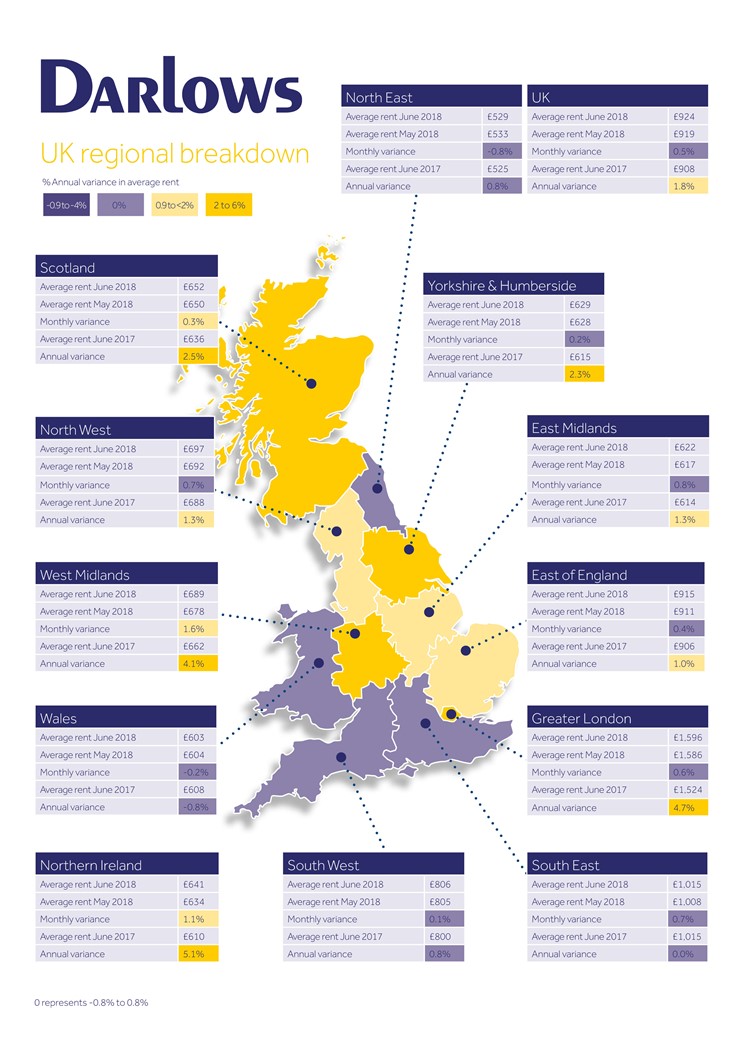 The official inflation figure remains at 2.3%, whilst according to the ONS wages rose by 2.7% in the three months to May.  This means in real terms, tenants should not feel the impact of average rental price rises. 
Meanwhile property values continue to rise – albeit at a continually reduced rate.  Prices across the UK are on average 3% more than a year ago meaning they're rising faster than inflation and wage growth.  This is positive for a landlord looking for property price growth over the longer term.
House prices are also on the rise – but growth is reducing
Average house prices in the UK have increased by 3.0% in the year to May 2018 (down from 3.5% in April 2018). This is its lowest annual rate since August 2013 when it was also 3.0%. The annual growth rate has slowed since mid-2016 and has remained under 5%, with the exception of October 2017, throughout 2017 and into 2018.