Off Market is a unique strategy to find you a buyer during these uncertain times.
Off Market uses leading technology to get you moved safely and effectively during these difficult times.  We work behind the scenes to find your buyer, so when you're ready to move there's nothing holding you back.
Still think its unlikely to move during this crisis?  Other agents may think so, but Off Market from Darlows gives you a safe way to get started.  
Request an off market valuation here.
---
Off Market and FLINK
The Off Market process let's you virtually meet your agent and potential buyer all from the safety of your own home.  
Unique social media technology FLINK creates an Off Market ad for your home.  FLINK uses data form providers like Google and Facebook to find people who might be interested in a home like yours.  No other technology can tap into those buyers who aren't yet registered with an estate agent or searching on property portals.  
How Off Market Works
While some agents have closed their doors completely we are adapting to give you access to potential buyers and get you moved.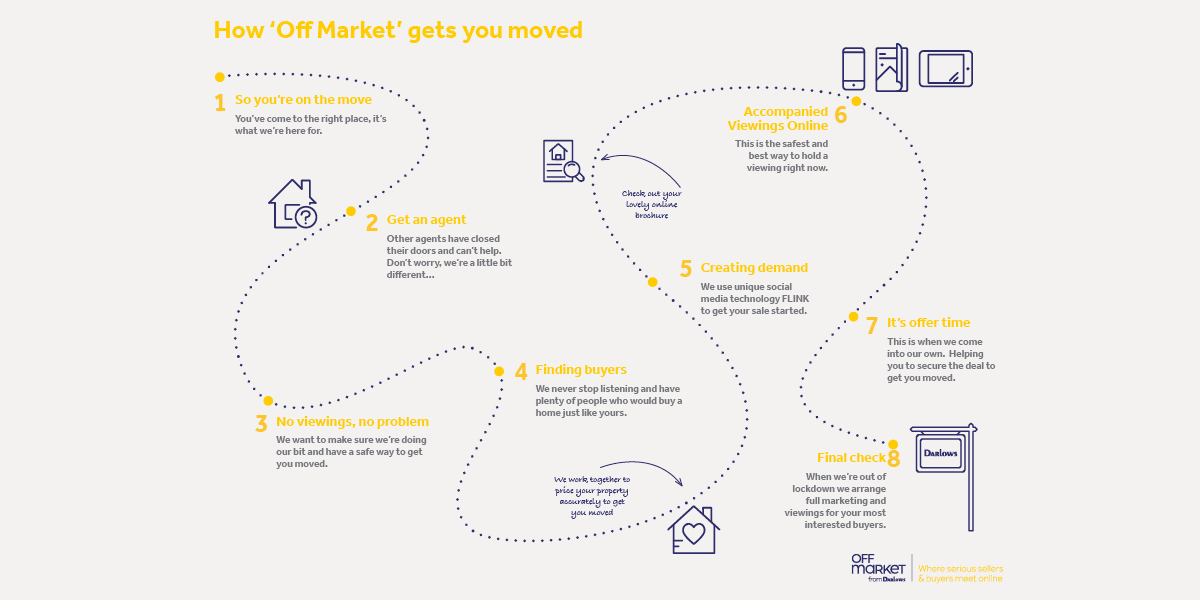 Before we meet...
We'll ask you to help with our preparation to value your property by giving us some insight into your home. A few photos and a quick video can be uploaded onto our Off Market portal to help.  We'll send you a link to a Zoom conversation at a date and time that suits you, ready to talk about your move in more detail.
On the appointment...
When we get to meet (virtually) we'll ask you to give us a guided tour around your home to help with our valuation.  Then we'll have a chat about Off Market and our approach to getting you moved.
After the appointment...
We'll send you a paperless contract and ask you to complete the necessary ID checks via our secure Off Market portal.
Then the work begins...
We'll get your FLINK ad ready and live onto social media.  While we're waiting for leads to come in we'll be calling out our database of hungry buyers to talk to them about your home.  Expect us to call to arrange accompanied viewings online via Zoom.  At the moment unless your property is unoccupied, viewings can only take place virtually.