The September property market hits three record levels, looking to sell? Find out why now's the perfect time
---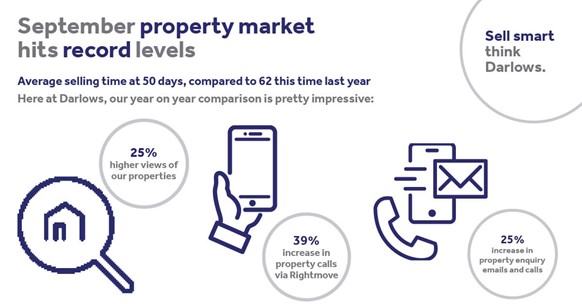 The September property market has proved how incredible the demand for property has been this last few months with thanks to the Stamp Duty incentive and buyers and sellers on a mission to move. Here are some of the headline Rightmove stats:-
With the average time to sell at 50 days, quicker than ever before, and a decrease of 12 days on the same time last year.
Number of active buyers is 66% higher than a year ago
October sales agreed up 58% on last year
With this record breaking year, this also means that property prices for those on the market have increased by 1.1% over the month.   This has led to a national record of £323,530 and 5.5% higher than a year ago, which is a staggering £16,818!
Within the Darlows network we have seen significant rises in activity:-
Increase of 25% in property views on Rightmove from this time last year
39% rise in property enquiry calls
25% increase in action requests across email and calls
What's giving the property market a boost?
With the stamp duty incentive introduced over the summer months a lot of people have been looking to sell and increased the movement in the market.  Those that might have otherwise have stayed put have been drawn to the benefits and savings of the stamp duty incentive and a wider range of homes have been put on the market.   
There wasn't much movement allowed in lockdown earlier in the year, so a lot of buyers are far more motivated and know exactly what they are looking for in their next property. 
Are you looking to move?  Time is running out to take advantage of the stamp duty incentive. Book you free valuation with us today to find out how much your home is worth.