House prices growth improves; whilst rents continue to rise
---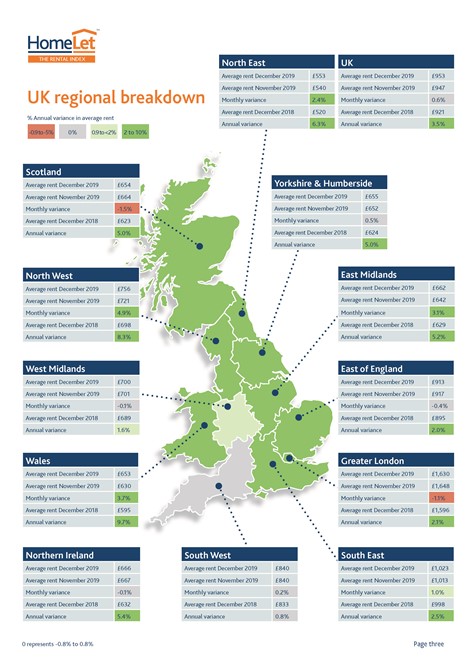 Darlows comments
Average rents across the UK rose by 3.5% in December 2019 when compared to the same month a year previously; the average monthly rent is now £953
Rents in London increased by 2.1% in December 2019 versus in the same month of 2018; the average rent in the capital now stands at £1,630 a month
When London is excluded, the average UK rental value was £793 in December 2019, this is up 3.9% on last year
HomeLet's December Rental Index reveals that rents rose from last year in all 12 of the regions covered in the research
In December, average rental values in London (£1,630) were 71% higher than the UK (£953)
When London is excluded the average rent in the UK was £793 in December, average rents in London (£1,630) were 105% higher than the rest of the UK
The data shows that the rental growth recorded in December 2019 (3.5%) appears to be significantly higher than the rate of inflation, recorded at 1.8%. Meanwhile, rents in Wales are growing faster than any other region in the UK whilst rental price growth in London has now decreased by over 1.0% for the past three months. Rental values in the North East, North West, East Midlands, Scotland, Yorkshire & Humberside, South East, East of England, Northern Ireland and Wales all rose at a rate faster than the UK average.
UK average house prices increased by 2.2% over the year to November 2019 to £235,000, which is an increase of 1.3% compared to October 2019.
Average house prices increased over the year in England to £251,000 (1.7%), Wales to £173,000 (7.8%), Scotland to £155,000 (3.5%) and Northern Ireland to £140,000 (4.0%).
The annual increase in England was driven by the West Midlands and North West.
The lowest annual growth rate was in the East of England (negative 0.7%) followed by London (positive 0.2%)