How to make your home feel bigger
---
24/05/2017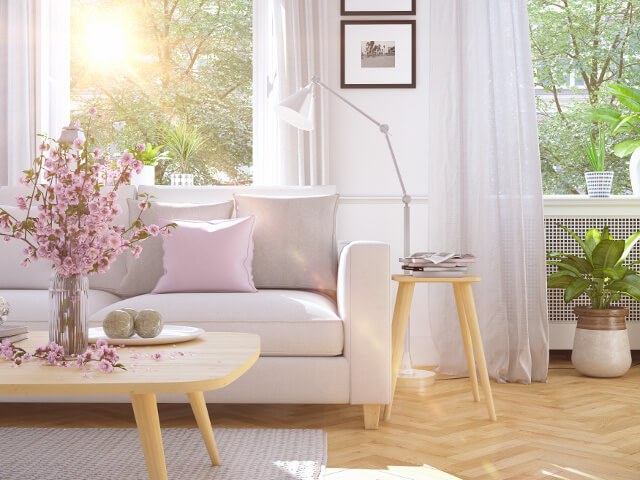 Whether you live in a 1 bedroom flat or a 4 bedroom house, many homeowners have to compromise on the amount of living space they were initially hoping to have. This means many of us are looking for ways to make our small spaces feel bigger.
Look for the light
It's not necessarily the actual size of a room which matters, but more how our eyes perceive it. Our eyes are drawn to the light as well as the amount of open space, so it's important you're making best use of both. Here are some points to consider:
Have at least three sources of light – all three should be split into three different levels; one being a low source, such as a table lamp, the second being a standing floor lamp, and the third being a ceiling lamp.
Dimmers – installing dimmers will let you control the level of light within a room, depending on both the time of day and occasion.
Windows – there aren't many who clean their windows as much as twice a year, but it can make a big difference. Clean windows bring in more natural sunlight and also draw the eye to the outdoors.
Walls and floors
It can feel as though our walls and floors are closing in sometimes; here are some things you can try to prevent this feeling:
Lighter walls – lighter coloured walls will instantly expand any space.
Mirrors – correctly placed mirrors can make any space feel larger as it brightens the room by multiplying layers of light. Place one on a wall facing a window and you'll double the amount of light which shines through, increasing the sense of space and allowing you to enjoy the view from more than one area.
Darker floors – pairing this with lighter coloured walls will create a contrast, as well as a more 'earthy' feeling below your feet.
Declutter
Many of us can part with around ¼ to ½ of our belongings. Keep what you need and ditch the rest. Other things to try include:
Create an empty space – every inch of a room doesn't need to be used for storage; instead considering creating an open empty space to allow for some visual breathing room. Try and keep at least 10% of your storage spaces empty to achieve this.
Long, lean shelving – a long bookshelf that stretches up a wall will draw the eye to the ceiling, creating the effect of a bigger space. A bookshelf running horizontally can also make up for wasted space; popular areas for placing these are underneath windows.
Furnish wisely
Take stock of your furniture and ditch anything you never use. Is there a spare table that's collecting dust or a broken chair you never intend on fixing? If so get rid. Other tips include:
Dynamic objects – for saving space, find furniture items which serve more than one purpose. Perhaps a pull-out sofa bed or a trunk that acts as a coffee table?
Legs – furniture items which lift up off the floor on legs keep a room visually lighter, so remember this whilst furniture shopping.
See more clearly – to further enlarge a space, choose glass or acrylic tables over wood or plastic; these materials block your view of the area which makes it feel smaller.