House prices climb over the year; whilst rents are also on the rise
---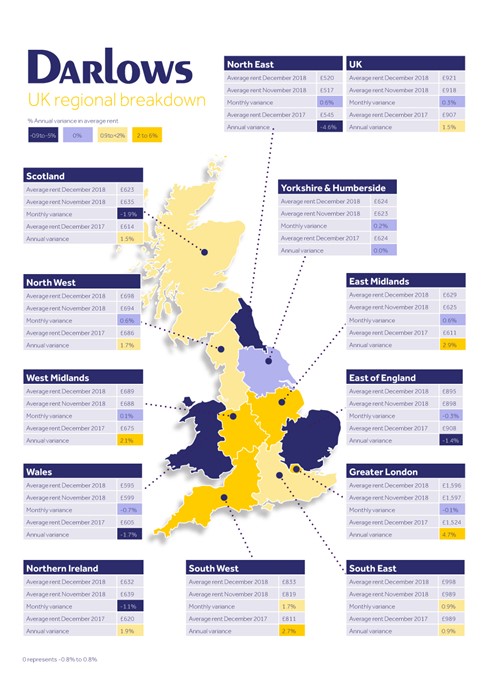 Darlows comments
Average rents in the UK rose by 1.5% in December when compared with the same month a year ago; the average rent is now £921 a month
Rents in London increased by 4.7% in December 2018 versus the same month of 2017; the average rent in London now stands at £1,596 a month
When London is excluded, the average rental value was £763 in December 2018; this is up 0.7% on last year
HomeLet's Rental Index reveals that rents rose in 9 of the 12 regions covered in the research
This year we've enjoyed stable rental price growth, with increases remaining broadly in line with the rate of consumer inflation. For landlords there remains a sustained demand for property, with the private rental sector continuing to provide the market with both flexible and long-term housing options.
House prices have grown at a faster rate than inflation, meanwhile rents are tracking marginally below
This points to an encouraging position for landlords, particularly those looking for their rental property as a long-term investment.  
Average house prices in the UK increased by 2.8% in the year to November 2018, up slightly from 2.7% in October 2018. Over the past two years there has been a slowdown in UK house price growth, driven mainly by a slowdown in the south and east of England.  
The average UK house price was £230,630 in November 2018, which is £7,000 higher than in November 2017.