House prices up 3.1% over the year; whilst rents in most regions also on the rise
---
26/09/2018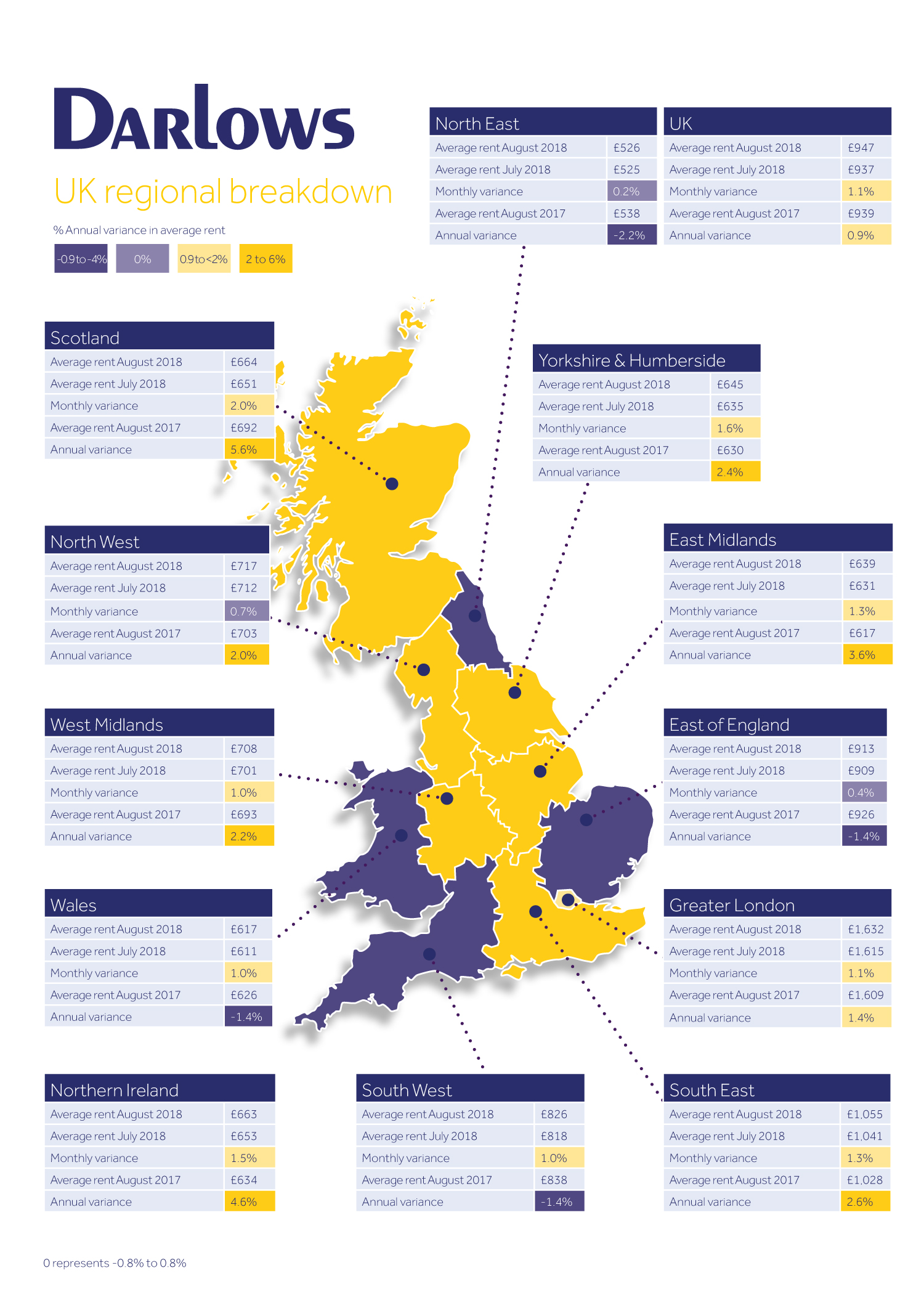 Darlows comments:
Rents in the UK rose by 0.9% in August compared to the same month a year ago; the average monthly rent now stands at £947 a month
Rents in London increased by 1.4% in August this year compared to August 2017; the average monthly rent in the capital now stands at £1632 a month
When London is excluded, the average UK rental value was £786 in August 2018, this is up 1.3% on last year
HomeLet's Rental Index reveals that rents rose in 8 of the 12 regions covered in the research
The pace of rental price growth in the private rental sector continues to slow, helping to ensure rents remain affordable. Scotland and Northern Ireland have seen the highest growth in rental values at 5.6% and 4.6% respectively. Meanwhile Wales, the South West and the East of England all saw rental price falls of 1.4% and the cheapest region in the UK – the North East saw falls of 2.2%.
Meanwhile data from the ONS reveals that house prices are following the same pattern, again growth – albeit slowing – is positive. These latest statistics continue to point to an encouraging position for landlords, particularly those looking for their rental property as a longterm investment.
UK house prices rose by 3.1% in the year to July 2018 with the average house price now £231,422. The pace of growth is down slightly from 3.2% in the year to June 2018, making this the lowest UK annual rate since August 2013 when it was 3.0%. House prices grew fastest in the North West region, increasing by 5.6% in the year to July 2018, followed by the South West and the West Midlands, both increasing by 4.4% over the year. House prices in London fell marginally by 0.7% in the year to July 2018, down from an increase of 0.3% in the previous month.